Venue
The conference will be held at the Lord Charles Hotel in Somerset West, about 15-20 minutes from Stellenbosch.
The conferencing facility at the Lord Charles Hotel is the third largest conference location in the Western Cape, The venue is conveniently located 20 minutes from Cape Town International Airport and offers complimentary on-site parking with 24-hour manned security.  Their fully equipped conference center consists of 11 meeting rooms.
Herewith is a basic map of the Cape Winelands area, including Stellenbosch, Somerset West and Strand.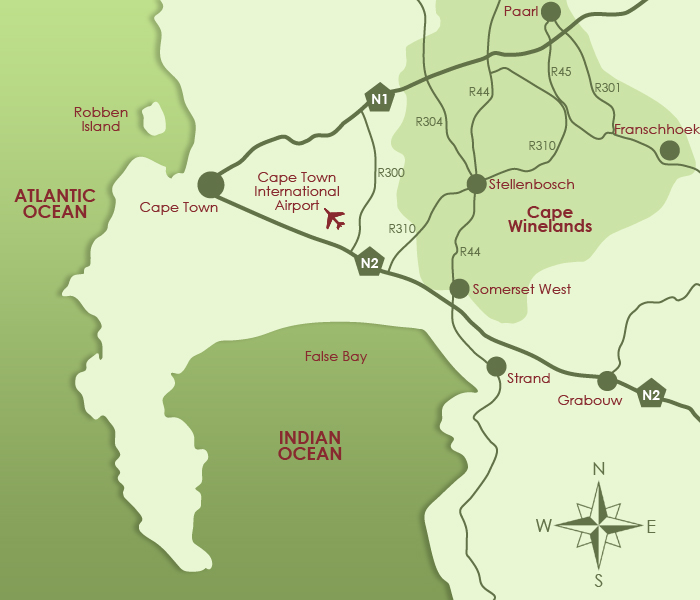 Accommodation
Lord Charles Hotel
To make your booking at the Lord Charles Hotel, please send them an e-mail and indicate that you will attend the OR2023 Conference. The price is R2 400 per room (including a 10% discount). Please use the booking code USB – OR2023 when you make the booking.
If you choose not to stay at the Hotel, there are numerous options for accommodation in Stellenbosch, Somerset West, and Strand (close to the beach).
SOMERSET WEST
Own transport needed 
Winelands Villa Guesthouse & Cottages
www.winelands-villa.co.za
E-mail:Somerset@winelands-villa.co.za
The Views Guesthouse
https://www.somersetview.co.za/
E-mail:info@somersetview.co.za
Wine Route 44 Guest House
https://www.booking.com/hotel/za/wine-route-44-guesthouse.html
Almond Cottage Bed & Breakfast Somerset West
http://almond-cottage-bed-breakfast.capetownhotelsearch.com/en/
@Abelia Guest House
https://www.abeliaguesthouse.co.za/
E-mail:atabelia62@gmail.com
Click here for more accommodation options in Somerset West
STRAND
Own transport needed 
 Strand Pavillion
http://strandpavilion.co.za/wp/
Ocean Breeze Hotel
https://www.oceanbreezehotel.co.za/amazing-stays
 Click here for more accommodation options in Strand
STELLENBOSCH:
Own transport needed
Southern Sun de Wagen
https://www.southernsun.com/southern-sun-de-wagen/
E-mail: SSdeWagen.reservations@southernsun.com
Oude Werf Hotel
https://www.oudewerf.co.za/
E-mail: reservations@oudewerf.co.za
Evergreen Manor & Spa–
https://www.evergreenmanor.co.za/
E-mail: stay@evergreenmanor.co.za
Eendracht
www.eendracht-hotel.com
E-mail: info@eendracht-hotel.com
The Stellenbosch Hotel
www.stellenboschhotel.co.za
E-mail: reservations@stellenboschhotel.co.za
Coopmanshuijs Botique Hotel & Spa
https://coopmanhuijs.co.za
E-mail: reservations@coopmanhuijs.co.za
Protea Hotel Stellenbosch by Marriot
https://www.marriott.com/hotels/travel/cptst-protea-hotel-stellenbosch/
Life & Leisure Guest House and Apartments
www.lifeandleisure.co.za
E-mail: info@lifeandleisure.co.za
Roosenwijn Guest House
www.roosenwijn.co.za
Email: bookingsenquiries@roosenwijn.co.za
Bonne Esperance Guest Lodge
www.bonneesperance.com
E-mail: stay@bonneesperance.com
Click here for more accommodation options in Stellenbosch